Orientation is a required program for all new undergraduate students. Orientation allows new students to get a feel for campus, meet with an academic advisor and other faculty, and finalize their first semester class schedules.
To find details and Orientation steps, click on the block that best describes you (first-year, early-college, transfer, international, or parents/family).
University College Academic Advising and Orientation introduces students to the University's academic and co-curricular opportunities. We advise and collaborate with students as they navigate the curriculum and develop their educational plans.
Announcements
Help our Food Pantry & Free Store. The Office of Sustainability Food Pantry and Free Store The Food Pantry offers non-perishable staples as well as seasonal, local fruits and vegetables as available. The Free Store offers school supplies, home goods, clothing, and more. Bring your donation with you to Orientation.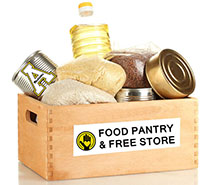 Follow Orientation
Calendar