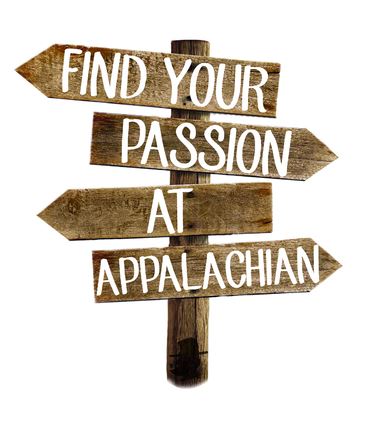 Welcome to App 2017 is almost here!!!
Welcome to App events are for all new freshman and transfer students. These events are an excellent way for you to become more comfortable at Appalachian, make new friends, have fun, and to start weaving yourself into the fabric of student life here at Appalachian. Welcome to App activities serve as an extension of your orientation, so take advantage of all of the Welcome to App events to ensure a great start at Appalachian!
Below is a tentive agenda for this year's Welcome Weekend. Welcome Weekend events are open to ALL ASU students! Transfer specific Welcome Weekend events are italicized.
WELCOME WEEKEND 2017 TENTATIVE SCHEDULE
Friday, August 18th
- 8:30 – 9:30pm - Residence Hall Floor Meeting (on campus students only)
- 8:00 – 9:30pm - Off-Campus Transfer Student Social @ Whitewater Lounge in the Student Union
- 9:30 – 2:00am - UREC Night @ The Student Recreation Center
- 9:30 – 11:00pm - Movie on the Mall @ Sanford Mall
- 9:00 – 11:00pm - Billiards and Games @ Student Union
- 11:00 – 2:00am - Midnight Pancake Breakfast @ Roess Dining Hall
Saturday, August 19th
- 8:00 – 2:00pm - BIG Sale @ Legends
- 12:00 – 1:00pm - Appol Corps Time @ residence halls
- 12:00 – 1:30pm - The Appetizer (FREE LUNCH! How to Get Involved & Meet other Transfer students) @ Grandfather Mountain Ballroom
- 1:30 – 3:00pm – Transfer Exchange and Common Reading Book discussion
- 1:00 - 2:00pm - Exchange @ assigned rooms
- 2:00 - 3:00pm - Common Reading Book Discussion @ assigned rooms
- 3:30 - 4:30pm - I Am App @ Holmes Convocation Center
- 6:00 – 9:00pm - Meet the Greeks Cookout @ Sanford Mall/Duck Pond Field
- 9:00 - 1:00am APP Spectacular @ Sanford Mall AND Varsity Gym
Sunday, August 20th
- 8:30 – 10:30am - Spiritual Life at ASU @ Student Union
- 11:30am – 12:30pm – Campus Walk @ Duck Pond/Yosef statue
- 12:30 – 2:00pm – T-Shirt Swap and FREE Lunch with OTS @ JET Building
- 1:00 – 2:00pm - Hanging with Appol Corps/Campus Walk @ assigned rooms & around campus
- 2:00 - 3:30pm - Free Hugs Project @ Schaefer Center (Session #1)
- 3:30 - 5:00pm - Free Hugs Project @ Schaefer Center (Session #2)
- 2:00 – 6:00pm - EXPO @ Holmes Convocation Center
- 8:00-12:00am - Party in the Union @ Student Union
Monday, August 21st
- 10:30 - 12:00pm - Black and Gold Convocation @ Holmes Convocation Center
- 12:00 - 12:30pm - Mountaineer March to Kidd Brewer Stadium
- 12:30pm – 3:00pm - Eclipse Party at The Rock!!! @ Kidd Brewer Stadium